He bag the God to give him such a perfect girl, the one he dreamed about. She was the one he met and the only one, that one! Still he thinks so but he lost all his money so far. The girls is still a dream for him and supposedly she is just a virtual image..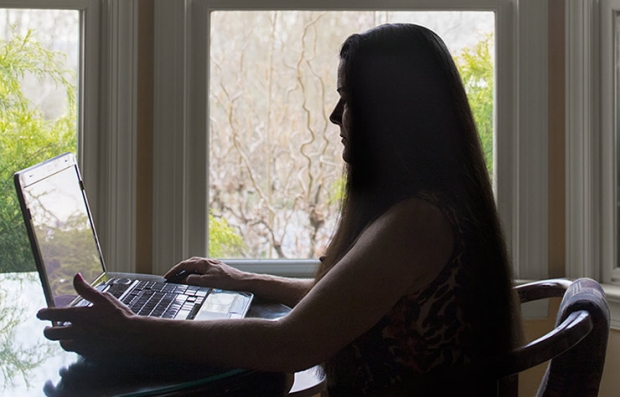 He was the first who send a letter to her.
That was a Sunday morning, in the end of March 2014, a letter was found in the mailbox with the subject line: OTHER HALF!
Do you know what is a love perfect match? Congratulations: you were indentified as a OTHER HALF in our special matching program and if you are interested – please follow think link to find the female profile on the website.
When our victim told this story he reminded this event as he was the first who got in touch first. That was a fate to make a first step, that was a decisive move that caused all that further events. Unfortunately no one could prevent from this and know beforehand.
Steven was a fresh user in the internet and tried to register on a dating website for the first time in his life, he had been a widower in the age of 55, a single man for about 4 years since his Mary had gone. He was lonely as their children lived far away in another state and his parents died many years ago. That is why he felt his loneliness wore than ever.
The reason of the wife's death was a regular modern disease – a stomach cancer, caught imediately, quickly and ruthless. After 4 years he became calm and sensitive with his life experience, so he intended to find someone next to him to share his thoughts.
Steven loved his Oklahoma-city and his relatives used to visit him sometimes. But their conservativeness made his women choice to get acquainted almost impossible with the limit. Therefore one friend advised him online-dating to try.
He investigated carefully all dating websites he may see somehow, as this activity was definitely new for him. He was embarassed with the quantity of websites and agencies. But holiday events gave him a push to make a choice properly and quiclky. Loneliness is the last thing he wanted to stay with him.
He registered within 3 months membership to one of the most popular agencies in the world with 15-years experience in matchmaking industry. The form was easy to fill in and he posted carefully his profile with all his honesty: exact age, status, interests and hobbies. Besides he used his fresh photo to make a profile picture with his dog Nassy, a full size photo with smiling and shining eyes of Steven.
He posted his intentions: to find a smart, mature, faithful, intelligent woman with perfect sense of humour and art hobbies (drawing, dancing) or sport.
Indeed he rushed to have letters to exchange and some meetings as well. But from the start of the communication he felt that was not he was looking for. He understood that from the first letter, from the first look and phrase sitting in the cafe. That was a hard decision to keep communicating with women but with limitation, so he responded or contacted first with those who matched close to the perfect combination.
Back to his student time he tried to remember himself as technical-friendly, he was using smartphones, liked to browse into the internet and different websites. His computer science education gave him lots of opportunities but he couldn't dare think about online dating and how it works. Facebook? OK. But that was just a social network but not dating, the service was extremely new for him.
One day the computer eliminated 100% match for him: a woman about 50 with dark brown hair and sparlking brown eyes, vivid smile showed her face in her profile. She attracted him with the name Lindsey-Mary-Go-Around, she liked jazz and lived in another city but the same state. That was strange and may be nothing special but the program showed a perfect match – that caused lots of consideration.
Anyway he sent a new letter but waited for a week for a response. Finally, he received:
Hello to you,
How is it going on this shining Tuesday? Im so grateful for your warm letter but please take my excuse regarding the delay of my reply (my fault). Indeed I visit my profile here not very often so I haven't checked my mailbox for a letter before. Really I liked your profile and you seemed a very sicere person to me. And I'm intrigued to know you better, I feel you are smart and handsome man so I suppose you to send me back some words about yourself. But if you don't mind please use my emai address to communicate as it is more convenient for me to check it up.
She added her name Lindsey and email address in Yahoo service. That wasn't suspicious at all as all members in dating website used to give email addresses to get in touch.
Nothing special when Steven sent a letter to Lindsy to her provate mailbox and nothing special when he did not find her profile on dating website.
I wonder where is your profile? I'm interested in your personality so please tell me more about you, and actually I would like to have a response with pictures to my email address as well.
Steven got an immediate reply from Lindsey, that was huge letter with a detailed and vivid description of her life. She was a teacher of history in a private school. She grew up in Bushwick, NY but on personal reasons left that place. That is why she had strong and stubborn character, educated and smart. She laughed right in the letter and embarassed Steven with an ovewhelming descriptions of her house. The specific details and the manner of telling impressed him much as that was another type of communications, a different.
That caused lots of questions in his head that is why he couldn't be patient and wait for a while, he responded immediately, the interest grew up.
He was excited with the questions in his head and this unusual conversation gave him an inspiration to talk subconsciously, joking and entertaining.
During two months they sent for about 10 long letters to each other. They refer to the Match program and perfect identity of interests, they speak about books and dishes, movies and songs and once Steven received a romantic song of Mariah Carey "Boy I Need You". That was a virtual intimate message of those feelings of Lindsey to Steven, she explained that in her next letter.
This is a traditional trick to attract the victim with romantic details, you should not be direct with your intentions but you have to use small signs indicating your feelings like special short videos or music tracks or pictures, etc. Frankly speaking it is hard even for scam artists to do like that as you have to spend months to catch the proper victim to be vulnerable to these maneuvres. As a result – great sum of money are to be sent to scammer. They system have been educating for years with all phsychological items for periods and still it is hard to do but for criminals it is worth for.
However tehcnical solutions gave a push for scammers to use internet resources to find the proper victim, like lonely hearts in networks, someone who has thick wallet as well.
Dating websites appeared in early 90s but as we see nowadays, they are on the top of their popularity for about 1,5-2 billions of USD of dating income. If you check up the information – let us remond you – we have the most popular websites on their rates: Match, Fish, etc. Nowadays – GoTinder.
Today we are the bystanders of the events of dating revolution, we have no frames and no limits and now there is no strict difference between virtual and real dating. Internet technilogy gave a big wave to online dating services to develop.
But the other side of the coin is negative effect of online dating business. We mean frequency of claims applied to Scam Comission about fraud and scam, it raised sudennly in 2014.
FBI supposes about $90 to be lost by the members of dating websites with free registratio in the same year of 2014. Moreover we do not know another cases of those victims who never reported to police.
So what are the reasons that interfere and block the wish victims to spaek about that loudly. In general not only shame but a doubbness and a fear cause a silence of scammed people. Therefore this interrupts the investigation of cases and calculation the statistic data as usually people are not able to confess about their situation and to share with someone. They are usually confused.
Romance scam is more difficult crime as we can imagine: the scammer has to find the victim and to plug her into the state of uncertainty, just like borderline feeling of reality and virtuality. And practically it is almost impossible to denote how it is possible when someone transfers the sum of money to another one whom he have never seen before.
Steven remebered that voice of Lindsey was so charming that he felt in love with it (magic, soft and so mature), her manner of writing and adding special sweet words to each phrase and each letter was special and bright. Besides they talked on the phone, they gave their numbers to each other suddenly. Since that time they used to talk freely and often. However now he reminds some unusual sound was interrupting sometimes like whispering or so.
They used to share about their lifelines, marriage and work, about future. Steven became very sensitive with that curiosity of Lindsey and shared all his neative events connected with wife and all. He was pleased that someone is so sincere and a good listener.
Steven was challenging and involving into this story, he was thinking about Lindsey often and even the situation about school data and no her profile there did not confused him at all.
Another strange things spreared from time to time. For example time gaps, like he was mentioning about the morning meal and Lindsey was preparing something for a dinner. Afterwards she explained that she decided to visit her cousin in Europe.
OK, lets go back to that place and time absctract and just imagine that she is from Nigeria! Can you? Probably.
Sure Steven knew about bank crimes in Nigeria that is why he was careful with contacting someone abroad, however this was the case of a tander romantic relationship with European photos and facts of travelling without any suspicious things. Lindsey posted him several romantic songs about distance and two lonely hearts so eagering to be closer.
What you think if I'm behind your door but not in Austria, for example?
Kenny is from Nigeria. He is 32 and lives in the capital. Africa need economy and medical education, they need specialists but it is hard with getting a job there afterwards. Students go far from home to get educated but when they come back – they are desperate to do nothing. So Kenny found scam industry instead, for several years he was in the system and as he explained he was out in 2009. And the base he was using for fraud wasn't changed at all (for instance, for about 17 victims and no matter if men or women). He opened up with this fact but asked to hide the correct name to avoid bad aftermath as he might have considered as betrayer and the enemy for the whole crime system.
He refers to advance-fee scams and impostor scams, modest fee is a small offer of the whole lore. Like mining dating websites start their romance scam as a crime variation. Nigeria, Malaysia – all these countries being political instable, having postcolonial corruprion, have only one way out – push their young population (who knows English of course) to scam and fraud crimes. Being ingored and desperate they agree to bare this hard performance job to get money. He joined a group of boys who had accounts on the same email service.
Kenny explained the manipulations of 3-sets. They used cards that have been stoled or lost and created profiles are to be fake. Dating online is large and independent place for making online crime. He mentioned that all photos were stolen as well from other dating websites and profiles of other people and ordinary informative websites.
He pretended to be an old man being an ingeneer or bank representative, or just a military retired to attract a woman. I was easier to catch a male victim as men used to pay attention into attractive photo of young and mature woman. Lonely victim is vulnerable victim. That is why Kenny and guys had dangerous armaments.
Kenny shared about the ideal cases when victims contacted first, it was easier then to hold the connection as other side liked something in your profile already.
Another point, the second one is taking mesurements forreal romance stage. You have to be patient concerning all love messages, notes, presents, calls and all that staff.
Steven convinced that after several talks by the phone they used to hear each others voice twice a day: in the morning and in the evening, of course, before going to bed. During all day they could exchange messages or letters.
Both of them desctibe recent events commenting them and adding some photos about trips with cousins or friends, holidays or vacations, etc.
Steven received a letter below:
I had a dream the night before this. The moonlight. We were walking on the seaside, noizy breeze was interrupting our small and smooth talk but your eyes were sparkling and looking at me with some magic power. I am soory for being so romantic but I like this subconscious imagination of mine and I wish somehow that could be true.
Indeed that was not a texting talent of Kenny. That was an abstract of one life story from live journal of one novelist. But being honest Kenny explained that such tricks help the most. And one day after some letters of such a kind of Lindsey, Steven confessed that he feels lack of such romance in his life too.
He replied:
I wish you could meet me in my door one day and hold me closer. This is the priority dream of mine for last three months. I like this fairy tale and probably it is better to sleep if you are not real.
Falling in love is a term of romantic feeling on a distance. You have very and very beautiful words you have never heard or told before. There is no bad habits or routine, you have everything in your virtual world, as you have never meet before – isn't it lovely? Such a feeling fills the heart of a potential victim and warms it. Even if it is not a reality, vulnerable lonely person who thinks he's in love – doesn't even want to wake up and think properly.
Mass media opened online romance problem up with the help of books in 2009 and some tv shows on 2011 but Steven haven't seen or read something like that. What is more he did not have any suggestions reagrding this matter.
Relationships can be more intimate when texting – you are not shy as no one will see you blushing while texting any confessions to other person. Besides this is a mystery to send messages instead to meet each other and creat awkward and clumsy situations within speech or simple conversations. You are embarassed with the pause to fill while in text you think better and can delete the phrase that you are going to send or just cancel the sending option. And finally when you receive the message you can read it again the next day – nothing will change, you will think about it again. You will make your feeling stronger by your own. And you will correct this feeling until it comes under the control by its power.
Age. This is a main criteria to be scammed. People after 50 are more vulnerable to be stressed with loneliness. However there is another interesting fact: according to the Scam Victims Statistics of the United Kingdom, the great part of victims are people who considered themselves as adventurous, risky and romantic. Speaking about gender, we cannot distinguish women to be more vulnerable but they are convinced to uncover the crime what is more is it easier for them to confess and to report to police. Instead of men who are more sensitive and prefer silence and suffer.
There is one effective term as "romantic bombing" – Steven knew it already. He was experienced within the long termed relationship with Lindsey. This process is uneasy to envelope however scammers are on their top with that. They have to isolate a victim from social groups, make them think about their beloved, live by their happiness, problems, events, puproses, diseases. Victims must be embarassed with the attention but imperceptible. Indeed it's like to have their brains washed.
The goal for scammers is to make them have the common status, even financial: if you experience any problem – just let me help you immediately.
Steven had a job trip, when he came back he discovered a pack delivered by post service with a silk tie in it and a note:
You have changed my world. tI will never be the same. Merry Christmas. With love, Lindsey.
That was the last "bomb", afterwards another stage began. Lindsy opened up with her financial problems. They promised to each other to meet soon as she had some relative meetimgs in Europe and still is Austria. Besides she started work there, just temporary to have some money for living. Indeed there was a tragedy with her cousin, a cancer and terrible disease embarrased her in full. She had funds but in USA. Here in Europe she did not have an opportunity ti use it until comes back. But she could not dare think to leave her cousin for a while. So she asked Steven if he can help with payment for medical treatment there, expensive enough, about EUR 500 a day. Afterwards Lindsy was sorry and expressed her great wish to come and see Steven finally and of course give all debts back.
$4 000 has been transferred to Lindsey's aunt account in Austria and another $4 000 for some preparations with her arival to America.
Steven was really excited within their meeting and bought two tickets to Mariah Carey concert.
Suddenly Lindsey's cousin got complications with her health conditions and they needed nore than $80 000 for transferring her to Germany. Stomach operations shold be done there, they had native contacts in one cliniques.
Lindsey knew that Steven had that money, and even more. He had no one near him and he was in love with her. The only one decision is to help. Immediately.
Time goes by very fast and Steven used those tickets with a friend. He had already sent another $50 000. Lindsey was still there, in Strassburg, Germany. She still promised to return him all the sum when they meet tete-a-tete.
He intended to get acquainted all his friends with Lindsey and almost all of them knew that she will come soon. But he couldn't dare notice any information about money he sent, no one knew.
He began to feel brainwashed. The doubt appeared and he started to reread their texting. He found so-romantic words a big staff and silly attempts to burn the fire. So strange when you are in a state of being beloved, you want that so much that you prepare yourself to be tricked with anything, even simple loving words. A decemption. Steven imagined two different women.
Once he asked what she had for breakfast and Lindsey replied "fried eggs". Indeed she confessed and she liked only boiled eggs. Lindsey smiled and replied that he was so smart that he knew her even better.
One evening he asked for a selfie, but immediately to calm himself and late photo of Lindsey sitting with her cousin crushed his doubt a bit.
This method is called as a pseudo-abstract method by specialists who investigate psychological effects during in-love-state. Money was the great reason to untrust and Steven like a drowning man tried to catch a straw to keep his trust.
Is it possible that you are a scammer from Malaysia or Nigeria?
He tried to show it like a sudden joke. But Lindsey replied that he was so funny and he knew her better than she did. What is more she intended to come to him in two weeks finally.
Her trip to home will take for about 22 hours and she sent him a small text from the phone before the check-in.
I can hardly wait.
That was the last message Steven received from Lindsey. He was afraid of silence first, he was thinking about some problems Lindsey experienced on the way home. He tried to understand the reasons of this silence, what is wrong as he received regular messages or calles from her but now he got nothing.
In spite his panic attacks he was the master of himself. They haven't contacted for about a two days or so. On the third day Lindsey sent a short message about visa problems and wiring some money for a help.
Actually Steven was a bit suspicious however he wired the small amount Lindsey needed.
A friend of Steven, John was nervous regarding this situation when Steven finally shared about his situation with him. John showed one of the tv shows about uncovering dating scam in Nigeria. The idea was simple, criminals even shose European countries as an example of the transparent life story of their "hero". Steven collapsed afterwards. He lost his heart.
When they contacted the next day, the tone, the voice and the manner of Lindsey – something was completely different. But indeed this is how Steven accepted. Still she was not coming to USA as planned.
Steven began to analyze their relationship and consider: how come he knew a bit about this person and sent her so mouch money?
He gathered all photos from Lindsy and started to check them if there is any connection in another sources. Finally he verified thw data of the school Lindsey was working and.. there wasn't any lady with such a name and face. He checked another department and found another person with such a name.
Afterwords, he managed to spend hours and days with searching about romance scam and was shocked. But being a human we still trying to hope that that can happen with someone else but not me, right? Still Steven could not accept the situation as his own fail.
But he remembered many divergences in Lindsey's texting and talking. What about the money? That totally was about $150 000. Good boy.
Consequently if you search any information about scam romance you will be able to read hundreds of stories like about Steven and Lindsey but with different details. But the main idea is the same. Such websites collect stories and reports, usually came from people who were brave enough and took a decision to share their situations.
There are examples of people of different age, criminals are professionals in their art and use all possibilities to get large sum of money.
Popular question about lost money and what to do to take it back receives the same answer: "Nothing to do with it". And there is no way to find as it was too late to get some ends.
United States of America, Australia were most active in investigating the problem. Actually people lead to civil rights and used to uncover any criminal actions. Sure they feel shame and all, but they care about those big money to be sent by their faul. That is why they reported the police immediately they got any suspicious details about the scammer.
And well, Malaysia and Nigeria are on the top of scam artists countries.
Scam artist work in big groups and their activities are divided into many parts. Some of them work by skype, by phone and by social networks. Another part is working with the late stage of scamming basically when the victim wants his money back. They pretend to be law or bank representatives and play games with silly efforts of poor people.
The scammed money travels like drugs across the Western Africa, actually police connects all crimes to the general terroristic traffic. Some accounts are to be arrested and distracted while the main parts goes directly to the ordering customer.
Come to think of it the hardest point is psychological state of a victim after realizing their failure. The wallet is empty and you can be angry only on yourself. No on ewas pushing you or blackmail you, everything you did – was by your own wish in the cold light of a day. But people loose their hearts and later experience difficulties with trust and sincerity in future relationship. The deprivation is so huge that people need lots of time and efforts to rehabilitate.
Australia has the information about those victims who suffered by scam twice. Adeptness – is not about them. They recceive the information about scam, they blame themselves however they strictly believe that won't happen anymore and next online relationship will be successful. Even being desperate they still do not want to wake up and continue to send large amounts to their "other halves" from Nigeria.
Steven tried to offer $20 000 to Lindsey for the receipt of some documents that will help her to uncover any information about real Lindsey or whoever she was. Anyway, lynch-law is not a decision. Lindsey had never showed her or his real face. Her relationship with Steven ended up the right day when Steven received the song of Mariah Carey. The hunt was over.
Steven hopes that his detailed story will show the manner and the system within scam artist work and probably that will save next $150 000 or, sorry, $800 000.