Online Dating review: UADreams.com
– Registration on uadreams.com
– Photo and video gallery of Ukrainian ladies for real dating
– What members are saying about scam on uadreams
– What ladies does uadreams offer to meet
– Information about all Ukrainian ladies on uadreams is always actual
– Communication with Russian or Ukrainian women on UaDreams.com
– Main services and prices offered by uadreams
– Additional services for those who likes romantic
– Payments methods and security
– Protection against scammers and fraud.
– My conclusion
– Ua-Scams Reviewer comments
Scam artists take all your time if you are single. Being embarrassed with scam romance you will not notice how deep they rip off you. That's on the subconscious level, you become vulnerable with your loneliness and fatal error is being used by scammers.
Dating agencies proceed many manipulations to stand against scam. However it is more than difficult. So today I'd like to talk about one of the top agencies to feed your soul with the pluses and minuses.
Uadreams has the reputation of more than 11 years experienced agency. Obviously you need one quick question to ask: how long do they keep on line? How do they do it? Is it any special strategy to lure money? Does Uadreams use a scam?
Deceivers have some particular methods of advertisement that attract number of well-grounded men from abroad. So they get money from you and use them for additional profits to build the system.
I received many negative reports about Uadreams scam and I gathered some from the internet. Due to the spam point I joined them into one set. Uadreams gets regular mailing and sometimes members do not expect great interest of their personality. One of the letter is above all my interest.
The Alehandro's Story:
A man named Alehandro, he's from Spain, gave a notice that he was forced to join to Uadreams. Actually what he meant is that one girl from Ukraine, Marta, was very happy to communicate with Alehandro but that free site they communicated for free was not convenient for her because of language ans some other private reasons. That is why she asked to move to Uadreams as she knows this website by recommendations of her friends and it would be perfect to transfer all talk there. That was really strange as first though Alehandro had " Why on Earth should I change for fee payment?" Therefore Alehandro refused to do that as he was sure in specific scam strategy in this case: swindlers want him to spend money on a virtual dating.
My comment to this situation is as follows. Uadreams has special maneuver for all defenseless women: they give them free services, I mean all professional photoshooting, video chat session, phone talkings and written correspondence are offered for Ukrainian women to find their other halves. Why for free? Women in Ukraine do not have any particular way to perform herself, to represent herself as potential candidate to marry. The only thing she can is to register on free dating website and to get some men maniacs or involved in sex-tourism or scam affairs. They do not have any contacts or visions how to get in touch with men from other countries so Uadreams offers them chance to use the possibility to be happy, such a long and quite a complicated expression but all men should understand that first of all there are men who are in search, so they agree to spend money for his woman to be with.
Then I expect some argue regarding free dating sites and scammers. But let them pass through. All sites for free do not take any responsibility about that scam hanging around them, they just don't care as no one was pushing Lis or Matt to register and to scam each other. No fee for payment attracts a lot and people swallow this bate and run on.
Uadreams gives a secure and save membership for ladies, they monitor all profiles, male and female, regularly. As to the ladies – their documents need to be verified properly and never register if something is wrong with one of them. Men, be sure, profiles are not fake. All information needs to be approved my special control department. Probably this feature distinguished Uadreams from other Russian and Ukrainian dating agencies.
And if I go back to circumstance with Alehandro I must say that probably that step of his lady made him afraid, he was previous bad experience but never thought that Marta had ever had it too. I faced with a problem that usually men think that women are the guilty side and men play a role of a victim and sources in the internet give so much information about scam tricks by Ukrainian women that foreign men believe in that constantly. That's why there is doubt and fear while thinking about entering this or that dating site with Ukrainian single women.
*************************************************************************
Updated 04/13/2020
Mark:
"No matter how much you want to believe a lady, you cannot know her true intentions. My advice would be not to use site, but if you do, meet lady quickly to find out who she really is. If you do this, you will avoid thousands of dollars wasted on chats, pictures, and emails. It is sad that agency does not do better to ensure that lady is honest and sincere but rather use agency for her needs like photo and english or other benefits. The agency does not refund or provide credits which is sad for customer service as well. It would be good faith on their part so that gentleman does not feel scammed or taken advantage. This can be done easily by agency if they are sincere in their mission. It is not agency fault lady is not honest, but agency is the responsible party for managing how they are percieved and marketed across the world."
The user gives just general information and doesn't prove his words. There are a lot of people who usually read reviews and write them without using the website, yes, they have some basic information about online dating but only basic and theory only. Why does the man write about the website without using it? As usual, a coach-based expert knows everything but indeed he knows nothing. As a matter of fact, he does a disservice and a lot of men and women are afraid of using the website thanks to such "experts". So it's up to you to decide if you trust amateurs or not.
**************************************************************************
But in Ukraine there were many cases when free dating sites gave a hope to local women to wait their beloved at homes, but unfortunately they never came to Ukraine to see them in live. So women being desperate look for any structure that could give them at least any guarantee of personal first meeting in the agency office. So does Uadreams. They do not let their members to exchange private information to prevent them from scam but let members do that after first meeting. Till that time all responsibility of couple's relationship is on their shoulders. That means they provide all members with technical support according to messages and letters sending, video chat and conference sessions, etc. as well as translation services.
Well, yes. We came to the language point. Fortunately Ukrainian women do not know English language fluently that is why that causes lots of misunderstandings during communication. As online translators do not give proper and detailed translation taking into account language specific idioms and phrases that have different sense and humor.
So in this case such websites as Uadreams are real treasure for women, they rely on them and trust their destinies to the third party. They receive help, support and care. Free dating sites do not give that except free ways of communication and lots of scam and fake profiles.
What I'm gonna say to you that this is a good opportunity to find beloved person and then even to study foreign language.
Now let's be back to our men and their money loss. Here we have an opposite situation that gives a picture of suffered men from women or even not women but a men scam team (who knows what is beyond that couple of blue eyes and smiley face of a Blondie you like) and all relevant problems. Actually here we have some letters from men who still do not believe that they receive letters from real ladies.
The Neethan's Story:
Neethan had another situation to tell us about, he was confused with the unnatural interest of ladies from Uadreams. Still he cannot understand HOW CAN IT BE, if you are a man above 50 but feel like Hollywood star to feel each sudden glance to the personality! Why after 3 days of his membership on the website he received more than 25 letters form single women of Uadreams from different cities of Ukraine! Neethan's mailbox was full of confessions and intentions of young Ukrainian ladies to know him better and to try to build up relationships. That was really strange. Is that any kind of scam? Can deceivers do such manipulations every day with every new member? Is there any difference between each male member to attack him with spam letters?

One thing more is to wonder him. He cannot accept that warm introducing and sweet words directed to him like: "Dear", "Sweet", "My Man", "My Only". Is there any cliches?
This subject touched my interest long time ago and I educated myself with mental aspects of Ukrainian women, and afterwards everything seem to be on necessary places.
Old friends of mine once told me that Ukrainians are sensitive but strong and stubborn people, like in every country with hard times and economic low directions people used to survive and make their lives comfortable by themselves, they hardly trust to someone for their future, they do that by their own endless power and strongest wish. So women understand their position among other single women to build up their relationships and families. The number of single men are three times less! So imagine how pampered men are with the woman's attention and if one woman is not so sweet – it's OK, there is the next one! In this case women do not wait, they act. They register on dating sites, they get acquainted with men, they ask questions and they do initiate the communication first. This is important. And Uadreams do not force them to do that but they give support and recommendations how to do that carefully, to avoid scam and fraud situations.
Everybody understands their risk but still they take consciously and being convinced in their actions. All of us are adult people and no one is pushing you to go ahead and register, oh, come on, don't be stupid. This is not a case but! NO one is taking your hand to press any button. You have your own head with the brain, just use it properly. Think over if you receive any suspicious letters or strange invitations, if someone insisting in money sending, if someone escaping from meeting alive – this is not what Uadreams promote. This is scam.
Uadreams underlines: let your lady feel protected and she would make you happy. So do express your respect to rules of the agency: never offer you email address or phone number to a woman and never ask for hers. Never offer any financial help just before you meet in real life. If you've see a person only via video chat – this is not a reason to trust in full. Only if you take into account such advices as Uadreams gives, you will be in safe and the third party like Uadreams is the moment would have a possibility to help you in every extraordinary situation as it would be easier to monitor the situation inside the system But if you go out – they would be able to do nothing for you.
Online Dating review: UADreams.com

Uadreams consumer report from an independent reviewer that was sent to me recently…
Did you come to this page not for nothing? So, you need facts and evidences that uadreams agency is real. Or maybe you just want to leave your own opinion based on your personal experience with this agency? We are always glad to get any response!
Note: For those who still hasn't understood what kind of website it is. This site is devoted not only to online dating. This blog was created in order to share with you in public full and detailed information about services and quality of work of matchmaking service uadreams. Everything published on this website was written by the author on his own free will. All the information about the uadreams site was carefully gathered, checked and confirmed or denied at first hand. This personal experience was based exceptionally on using the services of uadreams.com. Warning: No cent was and will not be received for any adverbs, promo actions on this site. No texts will be written to order here.
And now we get to the point…
An independent review of uadreams.com agency from a real alive person
Uadreams Average Rating 4.5 out of 5 with 280 ratings
The marriage agency uadreams was created in the 2000s. It has been working on market for more than 10 years up to now. This company strenghtened positions of successful Ukrainian matchmaking services in the eyes men from all over the world. You can also learn from this article if there is any difference between Ukrainian women and women from the East.
Uadreams is a network of branches situated throughout Ukraine. Uadreams offices are in 13 largest cities of Ukraine. A peculiarity of this service is that it was created specially for Internet users, in particular for men who want to get acquainted with Russian or Ukrainian young women easily, overcoming great distances of hundred thousand km.
The division of uadreams into branches takes place due to a unique service called "dating trips". Company's branches help hundreds of men from all over the world not only to make trips in Ukraine, but to organize real dates with Ukrainian women, their prospective brides and future wives.
Many people are mistaking thinking that the marriage agency uadreams is a representative of physical market. It is an online dating service. It is a little bit similar to popular social networks like Facebook, Twitter, Google plus and many others. However, you shouldn't mix them up. A set of unique services makes a great difference between uadreams and social networks.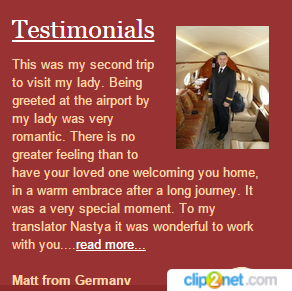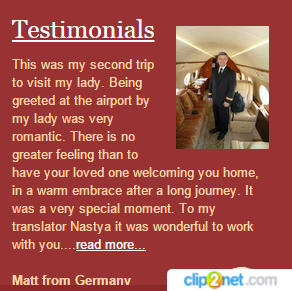 Firstly this dating service was created specially for men. Its main website is www.uadreams.com. Men from any country can use this service. The main language is English, but German- and Spanish-speaking men will not find it difficult to communicate with women. If you speak any other language, you can use the built-in translator and easily understand everything written on the site.
Secondly, this service is meant for those who is looking for a serious relationship. For those who wants just to flirt or find pen-friends social networks are the best choice.
The quantity of womens' profiles in uadreams is not ten thousand like in other dating agencies. There are only a little bit more that 1000 women who want to find their soulmates there.
This is due to the fact that all ladies members of uadreams are not married and aren't in any romantic relationship. In the words of the agency, the girls' marital status is checked from time to time. In such a way it is confirmed that the corresponding profile remains active on the site, according to the UaDreams Terms and conditions.

On the third hand you can become a member of this site for free and it is an uncontestable bonus. You always have a chance to try if this service is convenient for you. The fourth point is that this online dating service is paid. uadreams explains the necessity to pay for its services in the following way: each member of the agency knows what he pays for.
And the fifth and last thing to mention is that in spite of paid services uadreams has also free advantages:
– it is always free to be a member of uadreams, you don't have to pay any monthly fees having an account there
– your can send the first e-mail to any lady you like for free
– besides you can attach your personal photo for free to your first free e-mail, so you increase your chances to attact the girl's attention
– you have unlimited access to ladies' profiles
– uadreams support center answers your questions 6 days a week for free
– free installation of video chat application on mobile devices
– frequent special offers, discounts and bonuses for loyal customers that help to save money.
Now let's examine uadreams.com dating service in more detail. Let's begin from the most evident things.
Registration on uadreams.com.

It turned out that it is very easy to become a member of uadreams.com.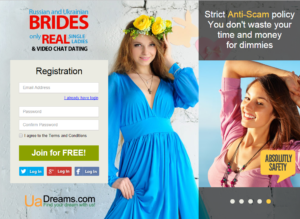 It will take you less than a minute to complete the form and even less time to register on the site through social networks Twitter, Facebook and Google. The second option is more convenient for sure 🙂 After that you will have to confirm your profile following the instructions. Then you will be able to see your profile page and can start to add your personal information or skip this step. However you should remember that the more information about yourself you give, the more chances to find a girl of your dreams you have.
If you become a member of uadreams.com you can use all dating services without limits, for example, write e-mails to as many Ukrainian or Russian girls as you want and chat with help of professional translators. You will be also informed about company's news, special offers and actual information useful for your communiction with women and new dating tips and tricks.
Photo and video gallery of Ukrainian ladies for real dating.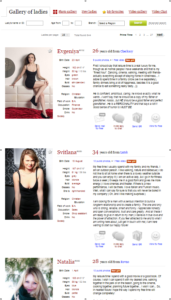 Firstly all ladies on uadreams.com are real. In at least I haven't ever met there those who are called "dating scammers". However it is possible that one can meet also such kind of women. Below I will explain you in detail how you can recognize a scammer and what you should do in this case.
You can hover in Gallery of ladies "Gallery of Ladies" really for a long time 🙂 So many photos and videos, wow!
Registrated members can use the advanced search of ladies in the gallery by various criteria: age, city, height, children, religious confession and even how many children a woman would like to have.
I was favorably surprised that you can meet not only young beauties on this site but also older ladies who is over 30 or 40 years old. Man of ripe age will be not disappointed with such great search resuts.
In this article I will share with you my thoughts about how ->>> to find a bride in a very short time.
What is better: a large choice or a limited quantity of chances?
Of course you should decide this by yourself. The quantity of profiles on uadreams.com is about 1000, as the agency informs. I can chalk it up to the fact that their database changes the whole time. Perhaps can the database sometimes reach more than 1000 ladies who want to find their men?
I didn't see so many women when I used the site. But I think that the essence is not like this. The most of dating agencies offer great bases of women's profiles. The only thing is how not to get lost there and, the main thing, to be sure that these ladies are not swindler or "men in skirts". You don't need any statistics to understand logically that such quantity of regitered women include fictious Ukrainian or Russian brides.
A propo, concerning scammers on uadreams.com. As the agency explaines, they "strictly monitor and choose the girls we accept to our agency. We always check their matrimonial status and background and make all possible efforts to protect you from anykind of scam." Such a not large amount (comparing to other big dating agencies) of Ukrainian and Russian brides on the site explains personally for me (and even confirms) honesty and seriousness of their intentions.
What members are saying about scam on uadreams:
I am very proud of them for making the Anti-Scam policy the main objective! Uadreams offers the best dating service in the WORLD and i am very proud of them for making the Anti-Scam policy there main objective in this service. Thank you Uadreams for helping me find my dream girl, I never thought she existed, but now i do. Thanks So Much, Shahir.
I can definitely report that UaDreams is not a scam! I definitely enjoyed my trip to Ivanofrankovsk. The translators in the agency were all very friendly, and Oksana did her best to make things as easy as possible for me. I was not sure what to expect, since my brother-in-law had sent me links to some website shortly before I arrived that seemed to indicate that UaDreams had some hint of running a scam. I can definitely report this is not true. Anything that bad to any misunderstanding is due to my personality (very shy) and nothing to do with the agency. One thing I would recommend to anyone planning a visit – do your best to learn at least a little Ukrainina or Russian before arriving. There are a few people I met while walking around the city who spoke English but not many. Kurt H. from USA about UaDreams.
UaDreams makes Internet dating more comfortable and safe from scams. It is very unique and unusual for a man to travel across the world to meet a woman. I was very skeptical about Internet dating, especially with a woman from foreign country. UaDreams makes Internet dating more comfortable and safe from scams. I really like the fact that neither the man or woman can give out personal information until they meet in person. When I arrived in Ukraine, I was greeted by my translator and she has helped me get to my hotel, food, and other small necessities that I asked for. She also helped me with a local customs and traditions so that I can act in a respectful and polite manner. During the meeting, she provided excellent translation and made the date comfortable. The overall meeting and trip to Ukraine was a very big success. I would not hesitate to recommend UaDreams to anyone interested in dating internationally. I would certainly use this agency again, but after meeting my special woman, I do not have a need to. Michael B. from USA about UaDreams.
Hello all who would read this.
First let me tell you that I was married before, via an agency – to a lady from Moscow. I'm stationed in Afghanistan now, and have been a member of UADREAMS for about 2 years.
In Afghanistan – I have a few Ukrainian friends who warned this UADREAMS may be a scam – the ladies aren't real- that translators return you letters – not the ladies in the photos, etc. I short.. buyer be ware! It took me a long time to "warm up" and do more than just write a letter or two.
To be honest- I'm pretty driven to find a wife. I would HIGHLY recommend the video chat or video conference options available to you. The first thing this proved to me is the lady you are writing to is REAL. She's really there. I wrote a few ladies from the Simferopol office..and I got to know a few of the translators just by ordering the service. The services are top notch. Pricey- yes.. but worth it in the long run. If your are serious in your intentions.. this is a must do.
As I planned my trip to meet the lady whom I'd been writing – I befriended the office manager – Alex – and came to know him a little bit. Again – this added another feather into the cap of .. this is no scam – these folks are running a REAL agency and providing a real services to guys and ladies like me. Alex – bar none – was available 24/7 for me during my visit.. and as a guy with a family of his own to take care of- the fact that he made himself available was simply beyond my expectations. I can't compliment enough how he helped me and took care of me during my visit. I honestly didn't have to worry about 1 detail.
Even though my initial visit was short – everything was arranged for me – and I did not have to attend to details- Alex and the Simferopol office took care of all of that- much better than my expectations. Anything I wanted or needed – he was my right hand to get it.
Additionally – I would tell you that the the staff in the Simferopol office was very protective of me.. and watched out for me. The answer is YES – I did write to and meet someone who (in our combined opinion) wasn't legititmate. And the Simferopol staff were very protective of me as a member. I can't say enough about how much I trusted them- and that trust was NOT misplaced. Simply speaking- the Simferopol office ROCKS… and they are all really about taking care of the members – and helping guys to meet in a PROFESSIONAL way… the woman of their dreams. The Simferopol staff, and Kate – provided a REAL service to me.. and watched out for my wallet and my safety. There is no price tag on that one guys.
Just because they set it all up, and you've written to a girl for 4 months (or whatever) might mean you'll hit it off right away… or maybe not.. that is up to you and the lady.. but as far as the service that UADREAMS provides, and the care they take for their members- its was well worth the price I paid..no joke. Especially if you don't speak fluent Russian- Escpecially if you don't know your way around. The service I recieved was MORE THAN the value I expected for the money I invested to go there.. so cheers to you Alex- and all your staff there in Simferopol! You really have a great team – and they really do care about helping members find their true love.
I would especially like too thank Kate (my translator) and Sasha- they both stayed VERY late – and did a superb job at translating for me – which made all the differnence in really getting to know the lady I was dating.
So if you are having doubts about the service – about UADREAMS – I can tell you that I took the chance.. closed my eyes and just "did it" and had the time of my life. Hopefully it will prove to be a turning point for me.. and I will find an awesome lady to marry – and this will all have been worth it. Even if it does not – I truly feel I have found an agency to work with me – and that will continue to do so until I find the lady of my dreams.
I will be going back to Simferopol in short order – to continue my relations- and I now go there very confident that I will receive the highest level of service- and work with honest people in terms of trying to find the ultimate lady for me. I can't wait to get back there to be honest – I had such an awesome time!
Sincerely Ray D. from USA about UaDreams.
Simferopol office really do go the extra mile. I would like to thank all the UA dreams support team and Simferopol office for their assistance with my recent trip to the Ukraine. Despite my trip being put together in a hurry to fit into my work schedule, their helpfulness and professionalism meant that I was able finally meet and be with the wonderful lady that I had been corresponding with for so long! The staff in the Simferopol office really do 'go the extra mile' to help and provide a level of service which I thought could no longer be found these days. They obviously care about their members and the ladies they are looking after.
I would especially like to thank our translator who did a fantastic job. She was friendly, helpful but also unobtrusive which was the perfect combination of characteristics for the job she was undertaking.
The Ukraine was a revelation to me also and I have been captivated by the friendliness and openness of the Ukrainian people who were always helpful despite my almost complete inability to understand or speak their language. The only thing I could possibly criticise about the country was the weather which could have been better BUT I did choose February to make my visit – I therefore only really have myself to blame! The food was great and the service in the hotels and restaurants was also very good.
I really wish that I had not left it so long to make this first visit to Simferopol and the Crimea. I will never forget these few days! I have met a REAL lady unlike any I had met before. I certainly will be returning to the Ukraine in the near future. I cannot wait to go back again and see the very special woman I met there. I also want to see the Crimea again which I expect in the summer will be almost as enchanting and beautiful as the lady I will be meeting.
I would not hesitate in recommending UA Dreams to anyone, it is definitely NOT a 'dodgy scam site' but a professional organisation staffed by helpful and caring people. Well done UA Dreams and keep up the good work!! Rickki D. from United Kingdom about UaDreams.
The agency checks carefully not only PROFILES but their LADIES DURING A PERSONAL INTERVIEW. It marks out uadreams.com among other dating sites greatly. In the majority of agencies the control is directed only on information written in profiles by ladies and not by the agency. I think that thanks to such kind of "selection" (I am sorry for this rudeness) you can refer uadreams to matchmaking agencies, and not only to dating sites or usual websites.
What ladies does uadreams offer to meet.

I can say that I have never met uneducated girls on uadreams.com. Younger women are mostly students, older ladies have degrees like B.A. or M.A. So you will just not manage to find a wife or a girl from Ukraine without education. Each and all girls here are very beautiful! In each profile you will find stunning photos made by professional photographers. You will not be able to take your eyes off!
In the meantime you can see that each lady is 100% real and her natural beauty on her video. Almost each girl has a video presentation.
Each lady has her own impression about family, you can read about this on each lady's page not only in the section "About my family", but also in "My future goals are…" I have read a lot of profiles and can say that I saw the word "family" more often than not. It confirmes that all ladies in uadreams are marriage-minded.
Almost all young women (without regard to their education level) have a job. Yes, Ukrainian ladies are really hard-working, by no means silly! They are clever and smart. One will be envious of a friend who has such a wife!
If you are really oriented on a seriuos relationship and look for love, Uadreams.com is exactly what you need! Here you will find charming Ukrainian beauties who not only want to keep the house, bring up wonderful kids and create fireside comfort, but can do this.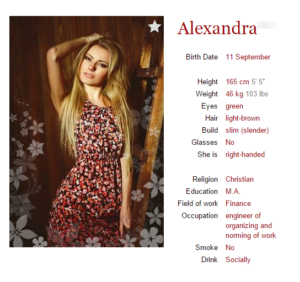 Here is a profile of a random girl, for example.
She is 27 years old, educated, her job is connected with finances and she works as a manager. Agree, such a good-looking young lady who has a good job and is educated is a real catch for each man! I think that it is a passport to success for each really good wife to have education and job in such a young age. It is the best wife you can just imagine close by you!
This random profile of a lady confirmes once again that Ukrainian ladies in uadreams agency are real ladies with real jobs and real appearances whose goal is to find a good man. Agree, there is a plenty of dating agencies where you can (or could) find an educated girl in random manner, but I think that you should review hundreds of profiles in order to find such girl.
By the way this lady tells about herself and her family on this page, so you can understand what kind of principles she adheres to. As Alexandra says, she grew up in a family with a father and a mother and she has an elder sister who is married and is an example to follow for her. It is wonderful, isn't it? There is a video as well, you can watch it and understand if the girl on video looks like on photos.
Indeed, the photos are professionally made and are of a very good quality. That's why one can think that this profile is a fake profile. Has somebody added to this profile fake photos of a pseudo-beautiful girl who is allegedly looking for acquaintances and a serious relationship? And when you watch the video, you can see how this lady behaves naturally, see her smile, movements and even some embarrassment in front of camera. So you easily understand that this is a real alive girl, not an actress or a model. Just a young girl who is very usual and open, but very beautiful.
By the way, if you believe in Zodiac signs, you will find a very useful thing in each profile: Horoscope Compatibility. And if you really like this lady you can send her a chat invitation at once, you will find this option in her profile. You can plan your live meeting for any time convenient for you. I think that after video chat you will refuse from all your doubts considering the reality of the lady. Ask her all questions you are interested in, take a look on her face and her reaction and you will make sure that there ist no "artificiality" here. It is evident!
Information about all Ukrainian ladies on uadreams is always actual.

Photos, videos, age, preferences, education and other information in women's profiles is regularly updated.
If you looked through the "Gallery of ladies" for several times, but you didn't like any lady, go to a section "New Ladies". It is for demanding men, you will find ladies here who just joined uadreams. Information in this section is updated not less than once a week.
Furthermore you will be always informed about new ladies via e-mail. Check your mailbox regularly or enter your profile on the site so often as it is convenient for you and be the first to write to this lady!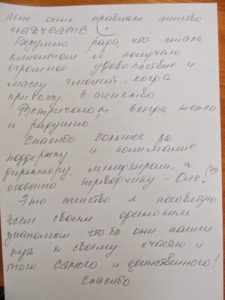 You can ask how uadreams manages to find so many ladies. I think that it would be more correct to ask why and how. I think that uadreams is called a "reputable matchmaking service" not for nothing. Indeed, it is not easy to keep its place in dating field for more than 10 years, and it seems that women like this agency, that's why they gladly become its members. Agree, good reviews thanks word of mouth and friends' recommendations are the most safe and proved method. They come, so they trust! Not only men become members of uadreams, but also ladies. By the way, you can find some reviews from ladies among Testimonials on the site.
So, in "New ladies" section you can find young women who recently joined the agency. Here you can sort profiles by age, region or choose a lady by her number. Men who doesn't like to read too much information can look at ladies' photos and read only short pieces of information about her: how the lady describes herself, what hobbys she has and what kind of man she looks on uadreams for. It is very convenient, because we men are visual when it comes to beauty 🙂 When we have seen all photos, we can read a little bit…. if we like a lady visually, we can read about her more 🙂
One more reason why it is convenient to use uadreams is that this agency gives us information about principles their work is based on. Honestly speaking, I still had a question: why do all ladies look on the photos like photomodels? The photos are so perfect and qualitative (and the ladies are so perfect) that you begin to think that these ladies are just photomodels hired for making photosessions. Maybe has this lady nothing to do with uadreams and doesn't know that somebody posted her photos on uadreams?
And here is a page where uadreams explains clearly and in detail how they take such beautiful photos – "How we take ladies photos". By the way the agency doesn't hide advisedly that they make very beautiful photos. As for me, I like such photos, I think that I would pay not so much attention to less attractive ladies. And you? Would you come to a date in an old suit and dirty shoes? Me not 🙂 So, the ladies want you to see them at their best as well.
By the way, the agency makes photos and videos for girls for free. For me it is a sign of good attitude and agency's respect not only towards us men, but also towards women. And if you want to assuage your doubts about the reality of photos, you should just watch any video of any lady and compare it to the photos. It would be not serious, if ladies' appearance on photos and videos was different, and if this lady looked in another way in chat, it would be height of superdeception. That's why I can assure you that all the information is 100% true – both on the part of agency and ladies.
There is a splendid section "Ladies" on this site. It is for those who doesn't know exactly what Ukrainian ladies are. For example, you can find there a page "What does Ukrainian Ladies want". I want to mention that it a wonderful idea on the side of agency to give some information about, Ukrainian women's set of mind,
their attitude to marriages with foreign men, the difference between women from Ukraine and from other countries, and finally, what do Ukrainian women expect from their foreign husbands. A separate article is written about age difference. If you have any suggestions or personal experience, you are welcome to tell me about that!
And the most interesting question about ladies' attitude to love is answered at the page "Ladies dreams about love". Agree, it is really interesting to get to know about your dear lady's attitude to love. By the way, you can read this information before you meet your beloved in chat, for example. It will be a real surprise, if you tell her that you know about her thoughts about love and what does she want from love. Share these thoughts with her, and I think that you will talk about this from a long time.
One more advantage of uadreams is that this agency is known as a trust resourse for meeting women for marriage. That's why men from all over the world are members of this agency. Make it sure by yourself, search information in google, for example write in the search window: "ukrainian ladies for marriage" or "find wife in ukraine" – and you will see uadreams in the first lines. They have a really good reputation. Here you can read reviews written by their members – UaDreams testimonials.
Uadreams has a very convenient search of young women for dating.
There is a couple of ways to find a girl (girls) for your future dates. I can say one thing: whichever criteria you need, this search will be always convenient for you. A special focus is various search options. It is very usable and easy and doesn't take much time.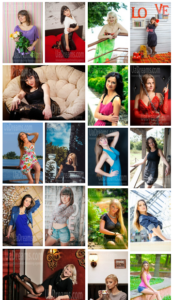 1. UaDreams photo gallery is very beautiful! I call this section "Fortuna". Here random ladies' photos are gathered, and all you have to do is just to scroll this endless page and enjoy many beautiful photos. 🙂 I think that you will find no man who would not like it. Do you agree? If you click on a photo, you will pass to the profile of this lady and read all the information about her.
2. UaDreams video gallery
I want to mention that not all ladies on uadreams have a video. So, if you want to see ladies who has it, use this section. Onlu those women will be shown to you who has a video presentation. Agree, it is better to see a girl on a video once than thumb 100 photos. On the video you can see how she looks like, her movements and stature, smile, her air kiss for you and you can even hear her voice on some videos. Who knows, perhaps namely this will be the bottom line for you 🙂
*** By the way you can watch videos absolutely for free (and photos as well), so you can watch them even if you don't have your own profile on uadreams!
3. UaDreams new Ladies – I have also written about thsi section above. I think that this section will be convenient for those men who is a member of uadreams for a long time, but is still looking for a lady. If you want to be always informed about new ladies who have just joined uadreams, here you can meet all new beauties.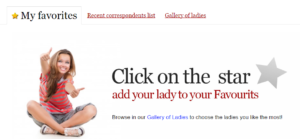 4. Section "My favorites" is available only for registrated users. If you are a memeber of uadreams, you will see here all aldies' profiles that you marked as your favourite. It is very easy to do this. Just click on the star in the corner of a lady's primary photo in her profile and she will be added to the list of your favourites. You will be able to see this list in your mailbox as well. It is very convenient and can be useful to you in your correspondence with ladies.
5. UaDreams video chat – as for me, this is one of the most interesting sections. What is special about uadreams comparing to other dating agencies is their unique service for online communication using video. If you like to see your lady live, if you are tired of tons of photos, if you want to make more steps to finish the search of your second half, this section is specially for you.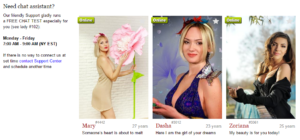 Here you will find all the necessary information needed to chat with ladies: a list of girls who is ready to talk to you, ladies who will be available for chat soon, a manual how to use video chat (everything is described there very detaily, so you will have no difficulties while connecting to a chat room), and your chat history (this option os available only for logged in users).
Besides uadreams has a new App created specially for members who prefer using mobile devices. Now you can use video chat on any smartphone with any operating system. You haven't be tied to your home computer any more! It's really cool! Now you can chat where you want and when you want.

The Android application id available on play.google.com, just search by words " uadreams live video chat" and you will easily install this app on your phone. You can also leave your comment about the uadreams app, many people have already done this 🙂 I think that you will surely like it!!
If your mobile device has another type of operating system, you can chat with girls using directly the webpage. Just choose the most suitable option among those that will be offered to you before you connect to chat.
Communication with Russian or Ukrainian women on UaDreams.com

Aside from the possibility to chat with girls on uadreams you can use also a very simple, but a really necessary way of communication, namely changing letters. Indeed, it is not always possible to be online and chat with a girl. For exaple, you cannot be online if you are busy at the moment.
So, a marvellous way to express your feeling is to send her a romantic letter. You will have time to think before you write in order to describe your feelings in the best way, ask her some questions or just tell her about your intentions. By the way, if you don't like a girl, you can just refuse to reply her letters. She will be informed about this, so you will not spend your time in vain. And how to get to know, if a lady likes you? Read my article ->>> How to check, whether your girl is really interested in you, and you will understand, if you woman is really interested in you.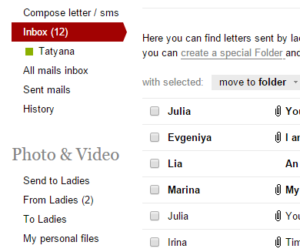 It is very easy to use your Mailbox on uadreams. There is nothing odd there. Here you will see all the correspondence with potential brides. You can create separate folders for your e-mails, and this in really convenient, when you write to several girls. You will also see a standard set of folders, as Inbox / Outbox / All e-mails and story of your letters.
HOVEWER, Mailbox has more interesting options. All media files that you received from ladies, are gathered in special sections. So you will easily find your all photos, audio and videofiles in a separate folder, without looking for them in a plenty of mails. You can choose separate options: Photos, Videos or Audios, or everything at once. There is also an option called "photostream", if you switch it on, you will be able to see all mediea files received from all ladies you communicate with. It will be look like a glossy magazie 🙂
Here in the section "My personal files" you can form your personal photo gallery and upload media files with public access. It means that all female members of uadreams.com will see published by you photos, videos and audiofiles. The more public photos you have, the more chances to get acquainted with beautiful ladies for a serious relationship you have 🙂
Main services and prices offered by uadreams.

All services and packages are based on the principle of conveniet communication of each couple. So, here you will find all you need for dating with Ukrainian or Russian brides.
– E-mail service. Each first e-mail that you send to a lady is for free + the more credits you buy, the more you save. The prices range from $6,99 to $3,49. You get for this price professional letters translation. For girls that's all is for free. It means that you get agency's support and communication without language barriers at reasonable prices.
– Video chat. I think that It is one of the collest dating services. It not only shortens the distance between you, but also saves your time, because you can understand quickly, if you are a good match or not. Agree, you can eaxchange letters for a long time, but you don't know how your girl looks like in real life, how she behaves when you ask her important for you or delicate and private questions.
And finally you will never be able to get a sincere smile through an e-mail, and perhaps a kiss of the lady whom you like very much! The price for a video chat minutes starts from $1.15 and can be knocked down, if you buy a pack of many minutes + so you get free additional minutes and a present for your woman, Englisch language lessons.
The translation service is included to the video chat price, so you don't have to worry about if you will understand each other. 🙂 On the uadreams website you will find a detailed description how to enter the chat room and you can even test this service for free.
– You can exchange photo and audio files. You will have to pay for this service, the price is also lower if you buy packs of credits and is $2.49. There is an additional option for you. Photo and audio credits are equal, so you can use photo credits to send your lady an audio file. When your girl receives your file, she will listen to your message translated into her native language. Besides you can add photos to your public album. And remember, the more public photos you have, the more chances to meet your destiny you have 🙂
– You can exchange video files. You can not only send and receive usual videos, but you can exchange so called "introduction videos" as well. You can ask questions and reply to each other, as it were a "light video chat version" 🙂 The prices varies from $2.99 to 5.99 for one video. What I also like is that all videos are processed in HD quality. So, you can communicate and exchange the most interesting moments of your life without limits, as if there is no distance between you.
– If letters and photos exchange are not enough for you, you can use video conference via a famous programme skype. You can communicate with your lady via Skype, hear her voice and see her via webcam. If you need, you can also ask for translation and the translation service will be included. The price for one minute is from $1.83 to $2.66
– You can get in touch with your lady by phone. You should set a time of your conversation and a translator will assist you, if you need. If you want, you will see your lady via webcam, it will sertainly make your conversation more intriguing and unforgettable. The price is $0,92 – 1,33. Using this service you can ask any important for you question and get an immediate reply. 🙂
– Trip packages to Ukraine. I consider this service to be the most important one. Agency uadreams helps its members to make a trip to Ukraine and offers all kinds of services to make your trip wonderful. They will help you (as a person who doen't know Ukraine well) to book air tickets, choose an apartment and book it, organize your dates with ladies, find a personal driver for you if you will need this, help to plan your romantic leisure, and your personal assistant will tell you about Ukrainian life and people in the most detailled way and give you a city tour.
Uadreams agency offers 4 kinds of trip packages. Each of them includes various services. The price for a day and night starts from $173 and reaches 557. It depends on the list of services that your would like to receive. With the help of uadreams you can book air tickets (that will certainly help you to save on your trip). By the way, there is a special page on uadreams.com where you can read general information about Ukraine and some events that take place in the country, tips and tricks about how to plan your free time in Ukraine, a lot of useful information. Besides you will find here detailes description of each trip package and how to contact an embassy of Ukraine in various countries.
By the way the most part of member's reviews is about their trips to Ukraine. That's why I recommend you to go to "Testimonials" on the site and readf what people write, what impressions they have about their trips, what they liked and what they would like to improve. The agency gathered reviews from 2007. I think that this great quantity of testimonials tells a lot about uadreams as about a serious dating tour operator.
Additional services for those who likes romantic.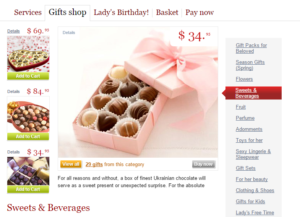 You can communicate with your ladies without limits using any service so often as you need. Except main uadreams services you will find a lot of additional ones, I would say, accompanying services. A big section "Gift shop" placed in "Services" menu is devoted to various gifts that you can give your lady as a sign of your attention. You will find here a lot of interesting ideas and things. If you would like to surprise your lady, you will find a lot of things in the online-shop: perfumes, flowers, sweets and many other gifts. And if you want to approve yourself as an attentive to details man, you can send your lady a decorated letter, it is a unique service. You can also send her your personal slide show or a romantic sms.
Men who has serious intentions and plans for their future, whose relationship is close enough, can shorten the distance and break the language barrier. If you are such person, you can present your lady language courses or lessons with a private teacher.
Payments methods and security.

Uadreams guarantees 100% payment security and safety. It arises from the fact that each payment comes through a special processing center verified by such payment systems as Visa and MasterCard. Your personal bank card information isn't kept on the site. The only information needed for making payment through the site uadreams is your payment address.
It can be used only in order to be sure that the payment was made by you. And if you have any questions while buying anything, it will help the support center to identify your payment quickly and give you all explanations as soon as possible. By the way, uadreams support center is very friendly and attentive, and if you call them or write through the site, you will get a reply quickly and your difficult situation will be quickly solved.
As for me, I have never had any difficulties with them, except one strange occasion when I could't make payment for e-mail credits. I wrote to support center and they answered me very quickly what reasons can be and asked a couple clarification questions. The same day it was found out that my bank has some technical problems. Finally, I made my purchase and I was content that uadreams team used an approach oriented on me as on a client, though problems were on the part of the bank.
I like very much that there are very convenient payment methods here: you can make payments using your bank card or payment centers eComCharge, Transact Pro и DalPay, payment systems Western Union, Money Gram or Bank transferring.
Protection against scammers and fraud.

Uadreams agency uses antiscam program so that its members (both women and men) could feel completely safe. The agency thought over carefully the rules of using of dating services.
For men:
– it is prohibited to send money to women
– t is recommended to inform the management of uadreams through the support center about suspicious ladies' behavior that is similar to scam
– published on the site photos and videos of ladies are real. It is confirmed by regular control by uadreams employees
– uadreams is responsible for authenticity and actuality of ladies' personal information
– it so forbidden by uadreams agency to use ads or any kinds of promotions of commercial services and using services provided by the agency by third parties or intermediaries
– all women are personally interviewed before they join uadreams and are registered on the site by uadreams employees exceptionally for the purpose of coming into personal contact with women. Registration with other purposes prohibited
– when the employees of the agency register a lady, they interview her in order to understand if her intentions are serious, check her passport data, her marital status and the fact that by the moment she has no relationship with any man
For women:
– it is prohibited to send or receive money by any means
– it is prohibited to exchange contact information with men before the first personal meeting. So, not only men, but women as well are protected against men scam and fraud.
– e-mail, photos and videos are checked in order to prevent contact information exchange, so men and women cannot get in touch without the help of the agency.
– all files and letters are also carefully checked on sexually suggestive and porno content, commercial content and requests concerning payments and money transfers, not connected with agency's services, authenticity of the content, in order to prevent any fraud of other agencies or third parties.
– it is recommended to inform the support service immediately about any unacceptable, obscene or suspicious men's behaviour
There is a lot of information on uadreams website how to get the hang of scammers, their typical bahaviour is described. You will find here some examples of scam letters and so called "red flags" that will help you to get the lenght of the scammers' foot at once. If you suspect somebody to be a scammer you should inform the support center about this, as the agency asks its members. Then the agency will quickly take necessary measures.
My conclusion.

I think that uadreams differs from a plenty of similar organisations, because it is not only an online dating site, but a dating agency as well. Agree, it is difficult to find a dating site that would guarantee or had responsibility for the authenticity of information in women's profiles. Uadreams is a "two-in-one" service. On the one hand, you can meet wonderful REAL Ukrainian or Russian women on this site. It will seem that there is no distance between you. On the other hand you will be able to visit your girl in Ukraine using not the site itself, but the help of the employees of uadreams directly. You can go to any branch of this company, meet its employees and have a wonderful time meeting potential brides.
I cannot say that this service is very expensive and cannot say that it is cheap. On the other side, how can such a serious organisation with such guarantees and quality of services work for free? Moreover, you know what you pay for – for your realised expectations, your personal safety and a REAL possibility to find a wife abroad.
Of course, uadreams has its faults as well, the same as all agencies have their advantages and disadvantages. I would like to see more options for placing information in men's profiles, so that our profiles could look so attractively as women's profiles do. I would like chat invitations to appear not so often, because they sometimes hinder to work with the site. And it would be nice to reconsider some prices on the site, because some items are a little bit expensive.
Really incontestable is that uadreams support center replies all your requests, complaints or questions really quickly. They are really sane people who are ready to receive phone calls twenty-four seven and follow any disputable situation to the last trifle, even if it is not very important for them. I would estimate this organisation for 100% as a customer-centric organisation.
Ladies. Of course, there are a lot of beauties in Ukraine! And there is a lot of this beauty on uadreams :)) And not just beauty, but REAL beauties with genuine information about them. So, everything is made for people on uadreams. There is no place for scammers, liars or robots here!
***
Hello Ua-Scams Reviewer,
I am glad to see you are real person here, I was looking for you as read so much info you write about dating agencies. So finally I am texting to you.
Indeed I want to say that I am a member of Uadreams.com maybe half a year or so. And I met a girl on this website and we started sending emails each other, but lately I found her on other site too, where she gave me the address on mail.ru. But although we communicated good on dating site, she never replied me in private email. I feel like I was blocked or something. Does that mean she received money for working for UADreams?
I understand now, they are 100% scammers with such a simple tricking policy. I hope you will post my message for others to read and to know that such bad thing can happen with anyone. Probably someone can avoid this scam. In all cases, dating online is really expensive, and you lose your hopes for sincere love by facing real scam there.
Now I see that these guys are those I do not want to rely on and trust. So I hope to hear some recommendations from you about Ukrainian dating websites to try. Actually, I still want to find my other half in Ukraine as women here are wonderful to marry to. I dream about wife with Ukrainian character.
Thank you in advance for your support.
Warmest regards,
Alex
*************************************************************************
Ua-Scams Reviewer comments
Well, I should say that Uadreams is the agency I've heard about but I am afraid those facts were more negative than positive. All reviews about Uadreams I've read, were about services and trips. So I decided to comment your issues you were talking about above.
1) I think there is a possibility that Uadreams creates a profile with fake data, but using the picture of a girl you meet somewhere else, on other dating sites. So the case like yours explains how you communicate with professional translator or operator of the agency. Such agencies aimed to give credits for good communication with young women from Ukraine with no language problems. Consequently, your girl did not realized she was involved in this affair. Speaking about a proof, it is really hard to do that, indeed. As this girl you was talking about most probably had a goal to contact any western man online.
2) Pro dater is a girl who engaged in working for international dating agencies, she works for money, paid regularly for each lured western man to the agency. Once I got an info that girls also may receive some additional fee from credits these men buy to communicate with Uadreams.com girls. As you may see, such girls like you described is not aimed to communicate in a private way, that makes no sense then.
I feel so bad to say to you sincerely that supposedly you've got professionally scammed by Uadreams.
Furthermore, my dating recommendations for you are the following: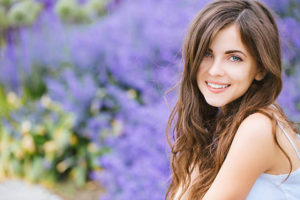 mamba.ru
russianfreedating.com
fdating.com
freepersonals.ru
Such dating websites are free, so you shouldn't be afraid of losing money from your wallet.
Besides, you may use social networks as well, but there are some important things that may be a problem for you.
The first one: a language barrier. For example, vk platform is based on Russian language, so if you don't know this language it would be difficult for you to understand the thing mentally as well. Many girls there do not speak English good enough for talk as they do not need that. They rely on online translators or on someone talking to them in Russian.
The second thing is be ready to get no reply even if you send dozen of emails. All you need is to be quite patient as million of single women and men try to reach each other on mamba.ru or brides as well.
Important thing is to be careful with dating online on free dating sites. I mean, if to compare free sites and non-free sites for dating the last category suffers from professional scammers. But there is no guarantee you won't face with scam and fraud somewhere else.
UADREAMS.COM TESTIMONIALS UPDATED 03.30.2020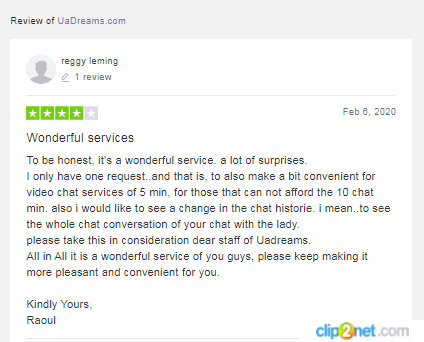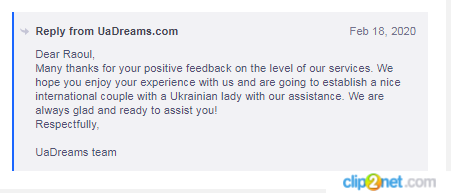 commented by author UA Scams:
For sure there are pluses and minuses but that's great when the member likes the services and the website in general. Giving feedback is a very important thing because that helps to change the website for better and to give the top-class services. The members always share the ideas and together with the support team make the communication easier and the website more convenient. There are a lot of happy men and women who used this website and share their positive experience, this man is one of them and he proves that UaDreams.com is a trusted dating website with safe and good quality services.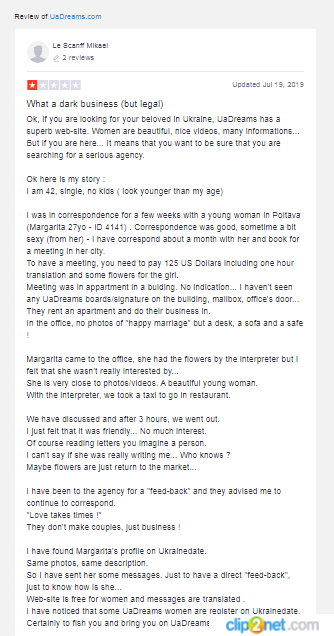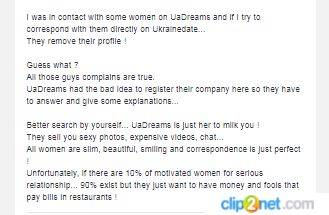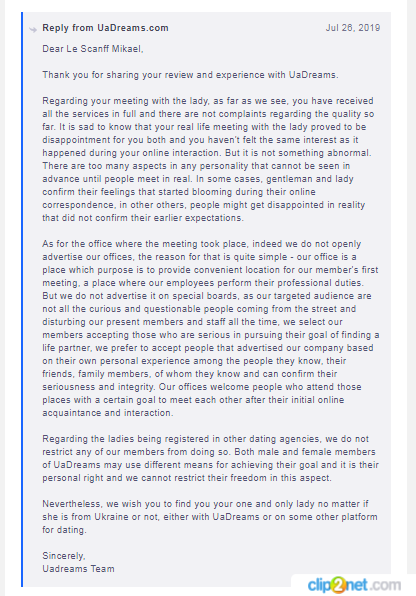 commented by author UA Scams:
So many men, so many minds. There are a lot of people who came to online dating with positive, who managed to find their love overseas. Some men spend on this 2 or 3 months and some guys need 2 or 4 years. Everything is very individual. How is it possible to say about all ladies and the whole website if you have met only 1 woman? When you date to a person in real life, there is no guarantee that you like each other and yes, such situations are very common and not only on this website. Some men prefer to plan the trip and to meet with several women, because everybody understands that in real life you may not like the lady or the lady won't like you, this is life. About other websites, you'll find some ladies on other resources. That happens because UaDreams.com lets ladies to use other websites or dating agencies without any limitation. The ladies are free to join any site they want that's why this man managed to find ladies on other websites. From my point of view, the man should keep on trying to meet the lady if he wants, of course, to build serious relationships.